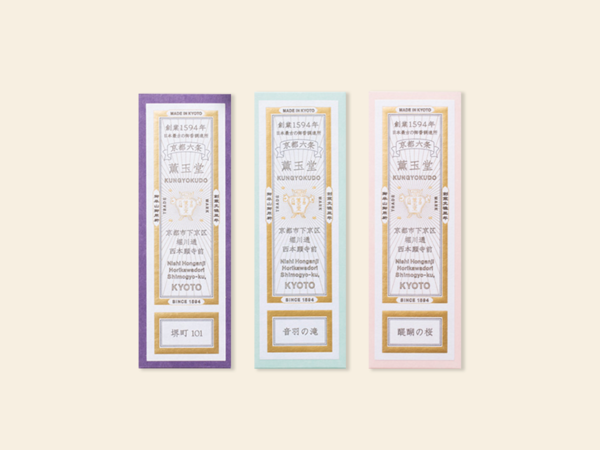 Japan's Oldest Luxury Taste Company, which has the scent of Kyoto since 1594.

All the scents of 'kungyokudo' use only high quality, natural, vegetable raw materials.

The recipe for flavoring is kept strictly confidential.

In manufacturing, the correlation of seasons, temperatures, and humidity is thoroughly calculated.



Here are three kinds of best-selling scent of 'kungyokudo'.
SENKO SAKAIMACHI 101
a mild and sweet aroma
Sakaimachi, the address of 'kungyokudo', is 101, a traditional recipe that is passed down from generation to generation.

SENKO OTOWANOTAKI
a mild and sweet aroma
A scent depicting the clear, cool waterfalls of Ottawa that flow down the spring of Kiyomiztera that is effective for health, study and romance.
SENKO DAIGONOSAKURA
a sweet, elegant, and relaxed atmosphere
Cherry blossoms open in full bloom, beautiful spring guests from the sky, fresh and charming scent from spring.
copyright 2018. a à z studios all rights reserved.
ⓒ a à z studios